Towards a Turtle Island Without Canada or the US: Talking Decolonization with Waziyatawin

Waziyatawin is Wahpetunwan Dakota from the Pezihutazizi Otunwe in southwestern Minnesota. In this interview she talks at length about colonization and decolonization - the physical and mental aspects of decolonization work for both indigenous and non-indigenous communities, how to recognize that there is another way to live that is radically outside of institutions like federal, state, and provincial governments, how to break through our identification with the colonizer, and so on. She also talks of appropriate ways people who are not indigenous to Turtle Island can work not only in solidarity with indigenous people, but in active decolonization in our own communities as well.
Follow Up With Bob Lovelace on the Blockade of a Proposed Uranium Mine

The continuing blockade of a proposed uranium mine near Sharbot Lake is an incredibly important struggle that is getting very little media coverage. Unfortunately that's the way it goes, and that's one of the reasons I do this show. I spoke with retired Ardoch Algonquin chief Bob Lovelace back on August 29 (our first interview is below this one), and here we speak again to learn how things have been progressing. As it stands most of the leaders of the blockade have warrants out for their arrest and are facing a $77 million lawsuit. Despite this, they are absolutely firm in their stance that the mine will never go through and they will not leave their land.
Ardoch Algonquin and Shabot Obaadjiwan Nations Continue to Stop Uranium Mine

Since the morning of June 29, the Ardoch Algonquin and the Shabot Obaadjiwan Nations have taken to physically being on their land to stop a proposed uranium mine, in what is likely both the most under-reported action of the June 29 Day of Action and the one with the biggest impact. They are situated just north of Sharbot Lake, which itself is north of Kingston. On Monday a court order was issued that ordered everyone to leave the site and open it up to Frontenac Ventures, and it is at this point unclear what the Ontario Provincial Police will do next. Frontenac Ventures wants to clearcut and strip-mine the land so it can exploit uranium.
Hereditary Chief Qwatsinas of the Nuxalk Nation on the Great Bear Rainforest, part 2

Qwatsinas joined me again for a more detailed interview than our interview back in January. He was interested in talking more about his traditional Nuxalk territory, the 'spirit bear,' the tradeoff between logging, jobs, and intact ecosystems, and much more. Qwatsinas was also a speaker at this year's Wild Earth gathering, and has been committed, for a very long time, to working to protect the rights of First Nations communities and the rights and health of the earth.
Kanahus Pellkey from the Native Youth Movement

Kanahus Pellkey is a Secwepemc and Ktnuxa warrior who is a spokesperson for the Secwepemc chapter of the Native Youth Movement. The NYM describes themselves as "a Warrior Society for Indigenous Peoples & Native Youth! Our role is to Defend our Peoples and Territories! NYM uses Education, Agitation, and Direct Action to achieve our goals. Our objective is Freedom!" One of the main issues the NYM has been mobilizing around has been the 2010 Olympics, which has inspired politicians and earth-destroyers to initiate an intense campaign of destruction and displacement. This has seen the further gentrification of the city of Vancouver and the surrounding area, and the destruction of wild areas, habitat for so many beings, in order to make new highways and ski hills... and so much more.
Hereditary Chief Qwatsinas of the Nuxalk Nation on the Great Bear Rainforest

Qwatsinas is a hereditary chief who has been involved in the struggle to protect the Great Bear Rainforest for years. Him and his community has been co-opted and lied to by both the Big Greens (Greenpeace, the Sierra Club, et al) and the government. Not a single piece of land in BC has been legally ceded, yet clearcutting is actually increasing. It was bad enough before, but forests are being destroyed at a faster pace so that the logging companies can get all they can before 2009, when they will be forced to scale back a bit.
Mohawk Resistance to more 'Development' on Stolen Land

Near the eastern Ontario town of Deseronto on the morning of January 10, a group of approximately 30 people from the Mohawk community of Tyendinaga blockaded a quarry that would supply cement to an illegal condominium development on their land. It is undisputed that the land, known as the Culbertson Land Tract, was never legally sold or given to any government agency, yet the land claim settlement has been stalled since 1995. The blockade of the quarry is only planned for today, with the purpose of raising awareness. As a result, today the government appointed a negotiator to deal with the issue.
Danny Beaton is a Mohawk of the Turtle Clan, who's grandparents lived on Six Nations territory along the Grand River, where the current Six Nations reclamation is taking place. Danny is a writer, filmmaker, and a whole-heartedly committed speaker of truth. He has produced and directed five nationally broadcast films that feature indigenous spiritual elders voicing their concerns for the need of society to return to spiritual values and the protection of Mother Earth.
Red Dawn and Eric Squire from Six Nations

In this powerful interview, Red Dawn and Eric talk about their community's determination to never leave the land, the radicalization of indigenous youth, the international mobilization of support for the reclamation, and the inspiration that is spreading from this determined action to fuel people everywhere.
Eric Squire from Six Nations

By now you have likely heard about people of the Six Nations community near Caledonia, Ontario, reclaiming their land from the furthering encroachment of suburbia, and on a larger scale, from colonialism. Eric is a member of the Six Nations community, and he was kind enough to make the drive to Guelph to share his perspective on things. He talks about their rights to land, their need to take a principled stand, Canada's role in colonialism and imperialism domestically and internationally, and the role non-native allies can play in supporting this historic struggle. I won't even begin to get into the details of the reclamation here, for the folks at Autonomy and Solidarity have created an excellent resource page with more interviews, articles, and pictures.
Arnie Jack: The Machinery of Genocide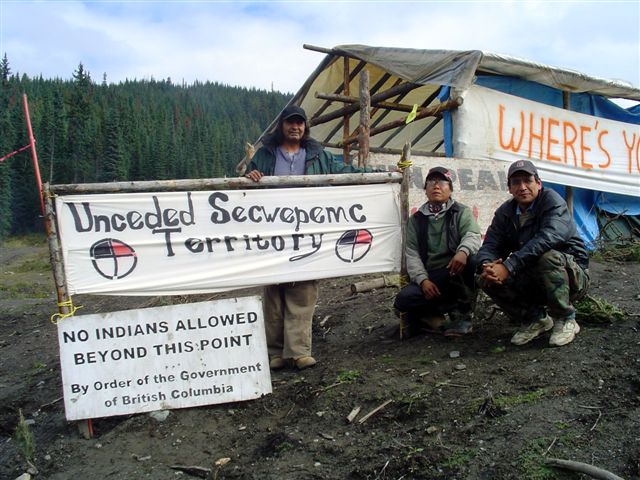 Arnie is from the Williams Lake Indian band, and is a member of the Secwepemc Traditional People's Government. Here he explains that beyond outright murder, the genocidal tools Canada uses against indigenous people are now legalities and policy measures. Arnie outlines, very passionately, how irrevocably illegal the Canadian state is and what must be done.
A Native Elder Speaks on the Canadian Holocaust

How does genocide continue in Canada, and how do the government, churches, and the social system work together to hide their involvement? How did 50,000 native children never return home from these 'schools'? Where are the hidden graves? Wilf speaks of the torture his family members suffered in residential schools, and relates the murder and abuse to the context in which indigenous people live in Canada today. This abuse includes being experimented on by Nazi doctors who fled Germany to come to Canada, among other horrors.
Hidden From History: The Canadian Holocaust

Kevin Annett, the secretary of The Truth Commission into Genocide in Canada, discusses the roles that churches, governments, and all levels of authority played (and continue to play) in orchestrating genocide in Canada, specifically in relation to residential schools, and he talks of the conspiracy to hide these crimes. Kevin also discusses what people of privilege need to do to take responsibility as benefactors of a colonial institution.
Boreal Forest Action Tour: Indigenous Resistance

Neecha Dupuis, of the Saugeen and Mishkeegogamang Nations, is a true warrior. While traveling around Ontario on a Boreal Forest Action Tour, she took time to speak with me about the ecological and cultural devastation that are results of genocidal corporate and goverment exploits. She is passionate, wise, and she speaks from the heart. In this interview, she covers many aspects of indigenous life and resistance, talking about relationship with land, culture, and spirit.
Indigenous Resistance to Sun Peaks in BC

Janice Billy explains the situation in unceded Secwepemc territory, where people are resisting the existence and expansion of a ski resort/golf course tourist haven, known as Sun Peaks. Janice is the spokeswoman for the Skwelkwek'welt Protection Centre, where people have been peacefully occupying their land, despite continued harassment and arrests.