Kelly from Boiling Frog with the Healthy Mind, Body, Planet Tour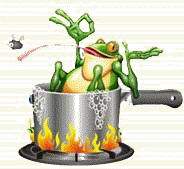 Kelly is an instrumental part of Boiling Frog, whose mission is to "Promote and distribute activist and independent media committed to issues such as: environment, social justice, poverty, human rights, war, peace, globalization, and direct action." Along with Angela Bischoff and another friend, they have been traveling across Canada on an amazing and inspiring mission, which they have described as follows:
Healthy Mind, Body, Planet is a cross-Canada multi-media tour, tabloid and documentary celebrating the most current information, analysis and inspiration related to mental, physical and planetary health. We will look at the reasons for the recent rise in depression, and at the myriad of treatments available, including pharmaceutical and holistic, within the context of Big-Pharma and corporate culture.
I went to their stop in Guelph, and I deeply appreciated the info on the pharmaceutical industry, as well as the opportunity to listen and talk about mental health. I also appreciated their efforts to link mental health with ecological health, because there are many. Mental health is such an important issue that affects each of us in some way, whether we know someone who has killed themselves, or we know someone who has what University-educated psychiatrists call a mental illness, or we struggle with depression ourselves as we witness such destruction and misery consume the planet. There is such a stigma surrounding these issues, yet it is so incredibly important that we talk about them with others. I encourage you to check out Angela's website, Greenspiration, for more information on their tour, and to read the paper Angela has produced, called Depression Expression.
Download 10:00&nbsp Recorded April 26, 2006